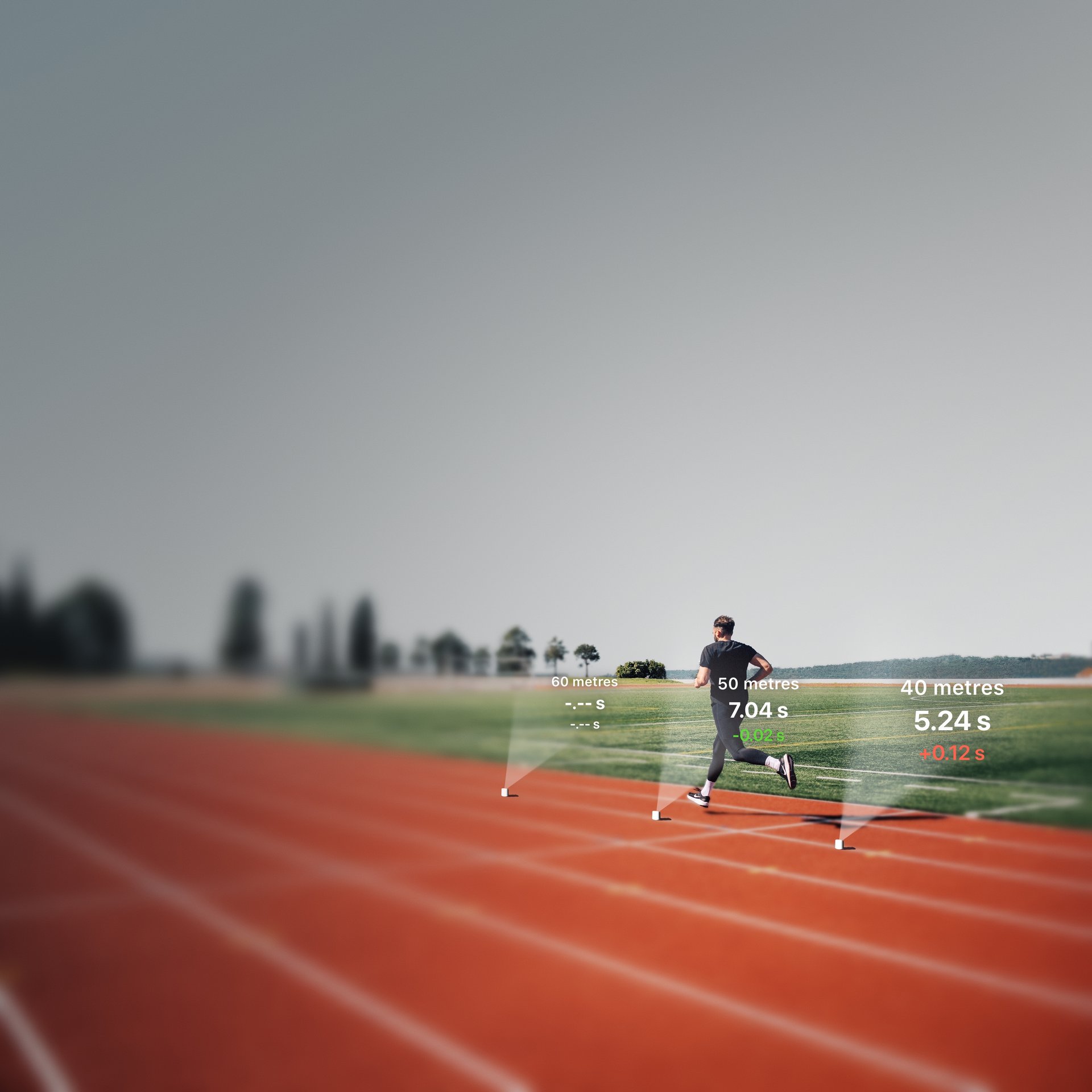 Get the most out of every sprint.
Transform your speed training with precision timing and data insights.
From $199.
Available later this year.
Perfectly adapts to your training needs.
Take your speed training to the next level with our easy–to–use athlete tracking system. Configure the sensors, select your athlete, and start tracking their performance right from the app. Get instant access to live sensor readings and comprehensive comparisons to previous or benchmark sprints. Don't wait, optimize your training today!
Finish
Achieve accurate speed and reaction time measurements with our simple athlete tracking configuration. Position a single sensor at the end of the distance and receive an audio signal to start. Our system captures the final result, including any reaction time errors.
Start + Finish
Our simple configuration includes sensors placed at the beginning and end of the distance, and our timer is triggered automatically as soon as the first sensor is crossed.
Splits
With the ability to connect up to eight sensors, you can capture precise split results tailored to your specific training needs. For optimal results, place a sensor at the end of the distance to capture the final time. Other than that, the configuration is entirely up to you.
Cutting–edge technology behind the scenes.
Get the most accurate times with our cutting–edge athlete tracking system. Our sensors incorporate ultrasonic technology and our proprietary Sonic Sense algorithm to achieve groundbreaking precision, with an accuracy up to 0.005 seconds. No matter how fast you run, our technology ensures precise results.
Ultrasonic Waves
Allows to detect torso only.
High Precision
Accuracy of 0.005 seconds.
10–Hour Battery Life
Chargeable Li–ion battery.
Custom Distribution
Place sensors from 2 to 100 meters apart.
No Wearables
No additional chips needed.
Day–Bright LEDs
Status visible anytime.
Sound Indicators
With accessibility in mind.
No Tripod
Stands on ground.
Get Notified
Join the waitlist and be one of the first to get notified!
Available later this year, from $199.
Copyright © 2023, Motion Trials